The brownies made by Colleen, Jen and Katy in the second book of the Saginaw Series: Bertie's Bakery Heaven Scent. They are so good they made a comeback in the Four Season Friends book, too!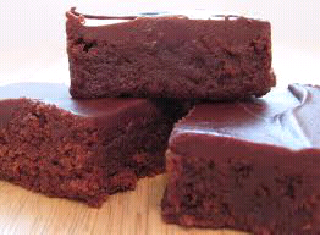 Click Read More to see the recipe!
Chocolate Brownies
1 cup sugar
1 stick butter or margarine
4 eggs
1 16oz can Hershey Syrup
1 cup flour
Chocolate Frosting for Brownies
1 1/2 cups confectioners sugar
7 TBS butter or margarine
6 tsp milk
1/2 cup chocolate chips
Mix butter, sugar and eggs. Alternately add syrup and flour. Grease and flour bottom of 9x13 pan. Bake 25-30 minutes at 350.
After the brownies cool. Bring sugar, butter and milk to a boil - boil for 1 minute. Remove from heat and add the chocolate chips - QUICKLY beat until chips are melted. IMMEDIATELY pour over the brownies and spread to edges. If you wait too long the topping will crack - it won't hurt the taste but won't look as pretty!